Presented by sse mba
'This MBA landed me my dream role' - the secret to accelerating your Swedish career
Wise MBA candidates know that a business school should offer you more than an enhancement to your professional skills and an increase in your value to your employer.
A good, rounded Executive MBA should also broaden your personal development and make you a more complete person. 
Not all programs offer such advantages to organisations and individuals alike. Many focus primarily on the former, sometimes to the detriment of the latter.
But at Stockholm School of Economics (SSE), the approach to its 18 month Executive MBA is much more holistic. 
The aim of the Executive MBA is to ready you for broader responsibilities, to sharpen your analytical skills, increase your financial awareness and prepare you for the global business world. 
Karamveer Singh, a recently graduated Executive MBA, who is ethnically Indian and who grew up in Thailand, is ardent in his praise of SSE's approach. "I have absolutely benefited both professionally and personally from this MBA program. From a personal perspective I now have much more confidence. I know that, whatever happens, things will work out. SSE has given me the tools and a broader perspective to deal with most situations life throws at you."
And he continues, "Maybe the most amazing thing SSE has given me is a wide network of new friends. Initially, going into the program, I wasn't sure what the peer dynamics within the cohort would look like. Would we all be super competitive and focus on our own development? After all, we were all ambitious, focused, and high achievers picking up the challenge of doing the MBA in parallel to work. But we collaborated really well! Even during the pandemic when the course was 100% remote, 12-15 of us studied together remotely. I think we all now have at least 10 new friends who we would describe as close."
Apply now: the next admission round for the SSE Executive MBA closes on May 15
Jerén Kallberg is Head of Project Management and Shipping at Hitachi Energy and is another SSE alum who has benefited from the Executive MBA program. "It really helped build my confidence. Just doing this MBA has made me realise that I've always been too hard on myself but, with the tools SSE has given me, now I'm not so much."

Jerén, an engineer who was born in Turkey, is also grateful for the large number of new friends she made. "It was so interesting to meet people from other industries. We really bonded over the 18 months of the course and now I have a wide network of people who I can rely on both personally and professionally - that really is an amazing resource to have."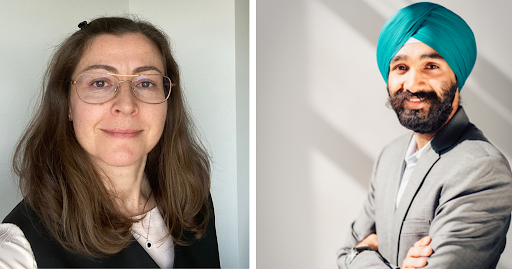 Jerén Kallberg and Karamveer Singh
But Karamveer and Jeren's studies brought real value to their employers too. Karamveer, Director of Business Development and Product Management at Siemens Energy, says he's now better able to more confidently communicate with various stakeholders - from shopfloor personnel to senior business executives. 
"I've been able to interact in meetings in a different way because I now have a different perspective. I now understand both the direct effects and the indirect effects of actions on a business in clear economic terms."

It's also made Karamveer think differently too. "If I had not done the MBA, I wouldn't be taking this job I'm now taking in three months because previously I would have not understood its importance and would have devalued it. It's a strategic role driving innovation and customer partnerships in the business area of energy transition solutions. Before doing an MBA, I would have thought this role wasn't suitable for me. The SSE MBA has made me much more aware of the company's actual needs and better understand my suitability for upcoming internal positions across a broader field of professional opportunities."
The next SSE Executive MBA program starts in December 2022 – find out more now
Oddly enough, because of his Executive MBA, Karamveer, initially told his company that he wouldn't take the job at all. "Initially I declined and told them, 'I don't think this is for me', because I was really enjoying my job at the time." 
"But they insisted and asked what would change my mind."
"I considered this, and reflecting on identifying these types of business opportunities said, 'If there's anything the MBA has taught me it's the importance of the customer, and whatever you do, you're doing it for the customer. If you want me to take this role, I'll only do it on one condition and that's if you locate me closer to the customer. I think the MBA has made me more valuable to the company."
His employer agrees. "Sponsoring Karamveer's participation in this executive MBA was of great value to Siemens Energy, as he has become a more reflective, self-aware and responsible business leader," says Elisabeth Waszkiewicz, Head of HR, Siemens Energy Sweden 
"Even during the MBA, our daily operations benefitted from the change project of the MBA program that Karamveer helped run at Siemens Energy. The project helped in improving organisational effectiveness and quality of customer project execution in one of our business areas in Siemens Energy."
Jerén's MBA has also benefited her employer. "I've been at this company for 20 years, and my goal is to become a better coaching leader and SSE has definitely given me some more tools to work with on that. If you think of yourself as a gardener and your team are the seeds, I am the one giving the best environment for my seeds to grow and flourish. If I'm coaching my 20 team members to be the best versions of themselves, then we have 20 people being the best version of themselves. It's hugely increasing the company's potential."
According to Karamveer, however, it's probably the personal friends he's made that really make the 18 months of hard study so worth it. "I have been working for Siemens Energy in Finspång for the past 10 years, so my network in Sweden was pretty much limited to Finspång, a small village close to Norrköping. By choosing SSE, and working through the Executive MBA, I now feel I have a much broader and wider network. I have a gut feeling that if I were to draw a network map, I'd be just two networks away from anybody in Sweden."

Do you want to boost your professional skills AND your personal development? Click here to find out more about the SSE Executive MBA in Stockholm.

This content was paid for by an advertiser and produced by The Local's Creative Studio.
See Also